SMT Solder Powder
SMT Solder Powder
SMT solder powders are the main products of Huijin's original company, which ever serviced the global mainstream solder paste manufacturers.

Huijin now has developed an idealized single atomization mechanism technology, which allows much higher product output ratio and better quality assurance.

Both centrifugal atomizing technology and ultrasonic atomizing technology are used to satisfy the different technological requirements of various customers.
Normal size and Ultra-fine solder powder products are available.
Compared to these of J-STD-006 and ISO9436 solder powder standards, more strict quality standard was executed in all solder powder production.
●Alloy Specification
| | | | | |
| --- | --- | --- | --- | --- |
| Specification | Alloy | Sol,℃ | Liq,℃ | Density, g/cm3 |
| SAC0307 | Sn99Ag0.3Cu0.7 | 217 | 217 | 7.3 |
| SAC105 | Sn98.5Ag1Cu0.5 | 221 | 221 | 7.3 |
| SAC305 | Sn96.5Ag3Cu0.5 | 217 | 217 | 7.5 |
| SAC405 | Sn95.7Ag3.8Cu0.5 | 217 | 219 | 7.5 |
| SnAg3.5 | Sn96.5Ag3.5 | 221 | 221 | 7.5 |
| SnBi58 | Sn42Bi58 | 138 | 138 | 8.6 |
| SnBiAg1 | Sn64Bi35Ag1 | 153 | 178 | 8.1 |
| SnBi57Ag1 | Sn42Bi57Ag1 | 139 | 140 | 8.7 |
● Particle Size Distribution Specification
Grade

% of weight-nominal size

<1%

>90%

<10%

Type 2.5

+63μm

63-38μm

-38μm

Type 3

+45μm

45-25μm

-25μm

Type 4

+38μm

38-20μm

-20μm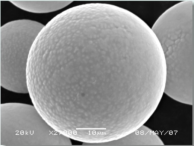 ●Oxygen Content Specification
Alloy

Size Grade

Total Oxygen

Content,ppm

Typical Total Oxygen Content Range,ppm

Referenced Oxide Content,wt%

SAC0307

SAC 105

SAC 305

SAC 405

Type 3

<100 PPM

50~70

0.04~0.10

Type 4

<100 PPM

60~80

0.05~0.12

SnBi58

SnBi35Ag1

Type 3

<100 PPM

50~70

0.03~0.10

Type 2.5

<100 PPM

50~60

0.03~0.10
*** Oxygen level of other similarly products can also be controlled within these ranges
●Powder Appearance